But as soon as the sets were done, Prince was off. No after-party. No jam. He went directly to the airport to board a jet home – the same jet that would make an emergency landing two hours later with Prince apparently overdosed on an opiate painkiller and requiring a lifesaving safe shot of Narcan.
Within a week, he would be dead – from an overdose, investigators seem to believe, of the painkiller it now appears he had been taking for years to combat crippling arthritic hip pain, a condition he would not correct owing to strong religious-based resistance to medical intervention.
But in Atlanta, on the night of Thursday 14 April, there was little to suggest to the concert's promoter, Lucy Lawler-Freas, that the star's life was already in danger.
"He wasn't feeling well when he arrived," she recalled. "But you wouldn't have known. He just said he wasn't feeling 100%. He did a brief soundcheck. You wouldn't have known he was sick – the shows were phenomenal. He gave it his all. But we knew he wasn't feeling well because he normally does an after-party. He did not. He was there an hour before he's due on stage and left immediately after. He wanted to go straight to his plane and go home."
The show was a sign of Prince's astonishing confidence as an artist. Lawler-Freas, a promoter at Rival Entertainment in Atlanta, had received an email at the end of March: could she book the musician to do two shows at the city's 4,600-capacity Fox Theater a week hence?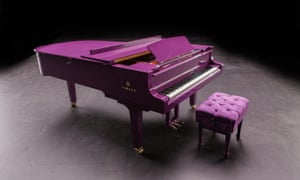 It would just be Prince, in purple pyjamas, a purple baby grand piano, a candelabra and a vast graphic backdrop of the artist himself.
This was to be the first stop in a new leg of his Piano & A Microphone tour. It was characteristic of his pop-up concept of touring, one that the 57-year-old star had honed in the UK in 2014 where he and his all-female rock group 3RDEYEGIRL had played a series of dates, some in tiny venues, at little notice.
"They contacted me by email, I was sorta shocked," Lawler-Freas said. As soon as she responded, "They called me immediately. We got the show confirmed, and it sold out as soon as tickets went on sale. Prince wanted to work very quickly. Pick a date, book it, do the show. We did that for Atlanta and then we did it for other markets – St Louis, Nashville and Washington DC – but we had not announced them."
For the Atlanta shows, Prince would travel light. He was accompanied by just two bodyguards. There was no special riders to the contract; nothing that spoke of an eccentric or demanding star. But late afternoon on show day – 7 April – Lawler-Freas received a message from Prince's tour manager; the singer had come down with flu. A doctor would confirm the diagnosis. He wasn't getting on the plane from Minneapolis. They were postponing the show.
The audience, already at the venue, showed no anger. "It was very unusual for Prince cancel, so many of the audience were supportive," the promoter recalled. "They were sending messages saying, 'Get well, Prince. We want you at 100%.'"
But this was the first sign that something was amiss with the great musical genius of the 80s. Was it flu, or was it flu used as a euphemism by junkies and opiate pill-poppers for symptoms of withdrawal? To a doctor it might look more or less the same – fever, running nose, stomach cramps.
That Sunday, Lawler-Freas gave Prince's tour manager some options. Prince chose the following Thursday, 14 April. The rescheduled gigs were announced the following day but when the day came around, the promoter received new reports of illness.
The shows went ahead, but then came the journey home. Around 1am, just over an hour into the flight, the control tower in Illinois received an urgent request for landing. A passenger on board the Dassault Falcon 990 was unresponsive. Only 48 minutes away from its destination in Minneapolis, the flight was abruptly diverted.
"Jet 3990, we did call the Quad City airport, hoping they'll have someone standing by for you," an air traffic controller told the pilot. "Was it a male or female passenger?"
The pilot responded: "It's a male passenger."
The plane rapidly descended 45,000 feet in 17 minutes, and upon landing at 1.18am, a bodyguard carried an unconscious Prince down from the plane, according to medical and emergency response records released this week by the city of Moline, Illinois.
The mostly redacted records offered few details of the chaotic scene, but soon after, emergency responders gave Prince a safe shot – an injection of Narcan – that would block the opiates and send him straight into withdrawal. It's one of the few facts to immediately emerge from the last days of Prince Rogers Nelson's extraordinarily productive and unusual life.
Within 20 minutes, he was taken to a nearby hospital for treatment, but the medical visit was brief: flight records show the private jet left for Minneapolis again only 10 hours after landing in Moline.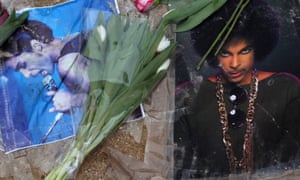 It is possible the painkillers he was taking were a temporary measure for some ailment. However, it has been reported that the devout Jehovah's Witness who publicly eschewed alcohol and profanity, had a longer-term issue with prescription drugs – his longtime collaborator Sheila E said he had hip and knee problems from years of jumping around the stage wearing high heels.
But in the following days, there was no sign from the Prince camp that anything was seriously amiss. They called the promoter at Rival Entertainment. He'd decided to take a week off.
"They said: 'Let's find other dates to do those extra shows because we want to take a small break. Then we'll start reconfirming in the next several days,'" Lawler-Freas said. "They gave me the indication that he needed to rest."
Prince wrote to his fans that all was well, writing simply on Twitter: "I am #transformed." Hours later, Prince representatives said he had been fighting the flu for several weeks. By Friday evening, he was home at his Paisley Park compound in Chanhassen, Minnesota, located about 20 miles outside Minneapolis.
Over the next several days, Prince would pick up his life in the city. He visited a local record shop, Electric Fetus, in support of Record Store Day.
"He was dressed really nice," Bob Fuchs, the store's manager, said last week. "I wouldn't have guessed anything was wrong." Prince shopped for about 15 minutes, picking up a half-dozen CDs, from Joni Mitchell to Stevie Wonder.
That afternoon, Prince was also seen riding a bicycle around a suburban strip mall near Paisley Park. Outside a hair salon, nearby resident Julie Reid snapped a quick photo.
After posting the photo on Facebook, Reid said her friends responded: 'Wait isn't he sick?' "Well," she said. "Clearly he was feeling better,"
Better enough to host a dance party at Paisley Park that evening. The Paisley dance parties had a reputation for Prince making brief appearances, sometimes performing intimate shows in front of only 30 people. But the 300-or-so attendees at the Saturday 16 April party didn't expect Prince to come out, given the reports of illness.
"It was pretty surprising, pretty crazy, because he had just been hospitalized a day prior," said Cory Amundson, 29, a photographer who attended, his inaugural visit to Paisley.
Across two rooms, partygoers danced away until just after midnight, when the music stopped. Amundson heard a voice from the main dance room: it was Prince. "We just heard his voice, talking, saying it had been a crazy couple days, but he's here … He's fine," Amundson said.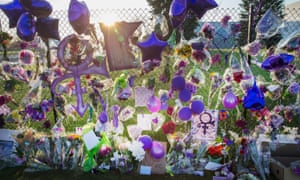 Prince said he had a couple beloved items he wanted to show off and directed them back to the other room. Amundson and his friend, Gretchen, found themselves at the front of the stage, about five feet away from Prince.
"It's not like I have seen Prince in person every day," Amundson said. "But for the most part, he seemed healthy, he seemed happy … He was just kind of his normal, quiet self."
Prince sat down and played Chopsticks again, on a new Yamaha-gifted piano, and showed off a purple guitar he recently picked up. Then, about 15 minutes later, the brief appearance ended. He alluded to his recent health issues and told the crowd: "Save your prayers for a couple of days."
Michael Holtz, a DJ at some of Prince's Paisley parties over the last two years, was there as a spectator. The rumblings in recent days of Prince hiding long-term drug use stunned the 38-year-old. At Paisley, he said, "It's always been such a clean environment."
"Basically, let's just say I can't even have meat on the premises because he's a vegan," he said. No one drinks or smokes, either. "I've just never gave that one thought," Holtz said of Prince using drugs.
On Tuesday 18 April, Prince appeared at the Dakota Jazz Club in Minneapolis, to watch the singer Lizz Wright. He dropped by the venue monthly, employees said, taking a table on the second level that would be cordoned off by a curtain.
"His presence reflected and underscored the range and depth of his appreciation for other artists," Dakota owner Lowell Pickett said. At the end of the night, he departed as he always did: through the kitchen and out a side door.
But the following day, Wednesday 19 April, Prince's condition appears to have deteriorated. An unnamed law enforcement official told the Minneapolis CBS outlet that Prince was checked by a doctor at a Twin Cities hospital. Later that evening, he was spotted at a local Walgreens pharmacy near Paisley Park. A local resident was walking in as the music legend was exiting the store.
"[She] said: 'Wow, that's Prince," the woman's husband later relayed to a radio station. The woman didn't mention whether Prince looked ill, he said. She declined to comment in an email to the Guardian.
An acquaintance dropped Prince off at Paisley Park, the last time he was seen alive, according to law enforcement officials, who haven't said whether he was alone at the 70,000 sq ft complex throughout the night.
"I don't think it would be unusual for him to be there by himself," said Carver County sheriff Jim Olson, during a press conference last week.
The following morning, Thursday April 21, staffers became concerned when he reportedly missed a holistic medicine appointment. They headed to Paisley to look for Prince and at around 9.43am, three people discovered him in the elevator on the first-level of the compound.
The staffers called 911. "The people are just distraught," an unidentified man told the operator. The individuals, unable to relay they were at Paisley Park, retrieved old mail to find an exact address.
"You're at Paisley, OK, that's in Chanhassen," the operator said. "Are you with the person who's …"
"Yes," the man responded, "it's Prince."
First responders arrived and attempted CPR, but to no avail. Olson said his deputies are equipped with Narcan – the same antidote used to revive the musician a week prior – but it was not deployed to resuscitate Prince. At 10.07am, Prince was pronounced dead.
Law enforcement officials have not said who placed the 911 call, and a judge on Thursday sealed the search warrant and accompanying documents.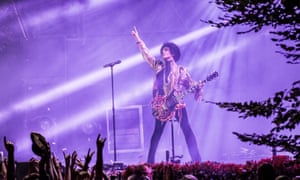 According to a source with knowledge of the investigation, Prince was fully clothed, but his body was already in rigor mortis when officers responded. Opioids – the prescription drug Percocet – were discovered at the property, the source said, "and they're waiting for the toxic[ology]report, but they're 99% sure it was an accidental overdose".
The source's description of prescription drugs found at Paisley Park was corroborated by the account of a law enforcement official who has spoken to the Associated Press.
An autopsy was completed of Friday 22 April, but an official cause of death may not be known for weeks. A spokesperson for the Midwest Medical Examiner's office declined further comment until the toxicology report is released.
The revelation that Prince may have been a long-term drug user didn't surprise Michael Padden, an attorney who represented the musician's half-brother and half-sister in litigation previously – some against Prince himself.
"The way it was described to me was that, yes, it was something that was consistent use," Padden said. Prince's siblings had mentioned his drug use in the course of conversation, unrelated to litigation, suggesting he had used cocaine and Percocet since the 1980s.
"It wasn't just casual," Padden said. "Something I want to make clear: Prince used because it'd make him a better performer; he wasn't doing it just for kicks."
It was also disclosed this week that Prince died without leaving a will. His sister, Tyka filed probate documents in Carver County district court, as the heir to Prince's estate, stating: "I do not know the existence of a will." A special administrator was appointed by the court soon afterwards.
On Saturday 23 April, a gathering of Prince's "most beloved" friends and family joined in a small service, after his remains were cremated. The service was "a private, beautiful ceremony to say a loving goodbye", said Prince's publicist Yvette Noel-Schure, in a statement. At a future date, she added, an announcement will be made for a "musical celebration".
But as investigators continue to piece together what led to Prince's death, family and friends remain stunned. "I just felt like Prince was just going to live well into his 80s and beyond," said Holtz, the occasional Paisley Park DJ.
His greatness must sit now alongside a miserable, untimely end. But a happier sendoff has surfaced this week too – a 14-minute audio recording of a segment of the last shows has Prince taking the Atlanta crowd on a fond trip through his musical evolution, from hesitant kid learning to play Chopsticks to a creature of clubland as he unfolded a shimmering intro to Joy in Repetition. Prince thanks them for coming out and apologises for cancelling one week earlier: "I was a little under the weather," he says, "but we're here now."